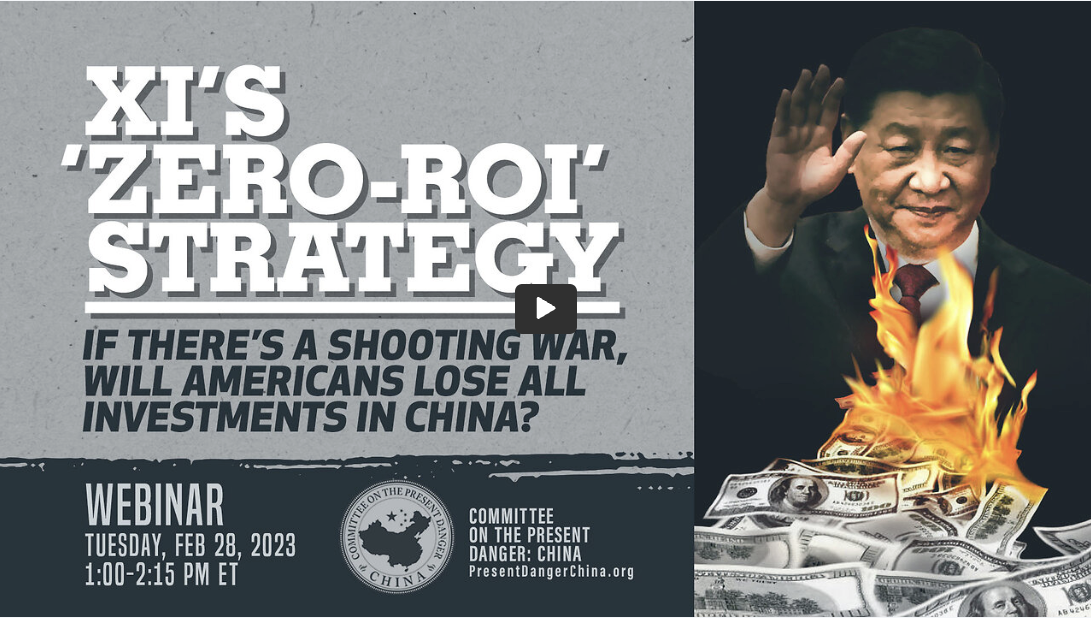 In the past decade, U.S. financial managers have transferred trillions to companies owned or controlled by the Chinese Communist Party (CCP) — by some estimates $3-6 trillion — from Americans who placed their money in pension plans, mutual funds, index funds, exchange traded funds and other investment vehicles. In many cases, the ordinary American investors' Return on Investment (RoI) has been checkered, at best, while Wall Street's "masters of the universe" made fortunes.
Too frequently, American investors are unaware how their investments are being used to buy into Chinese companies to the benefit of the CCP — including to underwrite its unrestricted warfare against this country.
Worse yet, as Chinese dictator Xi Jinping intensifies preparations to engage not only in pre-kinetic warfare, but the shooting kind, little — if any — effort is being made by companies like BlackRock, Vanguard, State Street, Bridgewater and Fidelity to apprise their American clients of a serious material risk to their investments in China. In the event of a war with China, the regime in Beijing may preclude the repatriation of at least some, and perhaps all, such foreign investment.
Moderator:
- Frank Gaffney, executive chairman of the Center for Security Policy, host of Securing America with Frank Gaffney on Real America's Voice Network, and vice-chair for the Committee on the Present Danger: China
Panelists:
- Kevin Freeman, CFA, Host of Economic War Room with Kevin Freeman; President, National Security Investment Consultants Institute; author, Secret Weapon, Game Plan and According to Plan
Topic: The Inadvisability and National Security Risks of Investing in the Chinese Communist Party; Invest Patriotically, Instead
- Joel Caplan, Investor in a Chinese NASDAC-listed corporation who was defrauded out of millions of dollars in capital and has been unable to collect in judgments
Topic: The 'China Hussle' — Insights from One of its Victims
- Colonel Grant Newsham, U.S. Marine Corps (Ret.), Former Marine Attaché in Japan; former Foreign Service Officer; former East Asia-based corporate executive; Senior Fellow, Center for Security Policy
Topic: An Experienced Businessman and China Hand's Assessment of the Prospects of Getting Your Money Back in Case the CCP Goes to War
- Bill Walton, Chairman, Resolute Protector Foundation; Host, The Bill Walton Show, CEO of a $6 billion NYSE-traded private investment firm for 14 years; headed all the economic agency action teams (e.g. Treasury, Commerce, USTR, SEC et al) teams for the 2016 Trump Transition
Topic: What is Wall Street Not Telling You: Undisclosed Material Risk Amidst Growing Concern about the Safety of Chinese Investments?
- Brian T. Kennedy, Chairman, Committee on the Present Danger: China; President of American Strategy Group; Former President, Claremont Institute
Topic: The CCP's Sovereign Debt: A Cautionary Tale for U.S. Investors
https://www.worldviewweekend.com/tv/video/chinese-leader-admits-they-control-us-congress